Webwrite's all about 'Doing the write thing'
Webwrite was established by Kieron Hayes at the beginning of 2011. In a long and varied communications career, Kieron has worked in:
print media: both as a journalist and editor of trade publications
online: as a web copywriter, analyst and creator of websites
Public Relations: as a Press Officer
Marketing: providing copy, design support & event promotion and eMarketing services.
Delivering communications services to every type of business
Kieron has provided copywriting and associated marketing services to every type of business, from SMEs to global corporations, the public sector and representative groups. Yes, he produces great copy, but that's not all he does. With more than 15 years' marketing experience he can also deliver the insight your business needs to make a success of your communications - regardless of the channel you choose.
Testimonials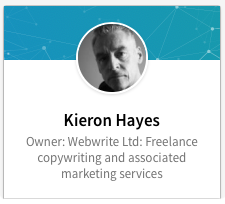 "Kieron is a talented and thorough copywriter. He quickly got up to speed with the company and the complex intricacies of the energy industry, and consistently produced well written copy that translated technical industry information into user-friendly messaging in line with the company's tone of voice."
To find out more about Kieron, click here to visit his profile.
See for yourself
So please, take a look around the site and check out the broad range of skills that Webwrite could bring to your business - it could be your next step on the road to effectively communicating what you do best to the people that matter.

Copyright © 2017 Webwrite Ltd. All rights reserved.